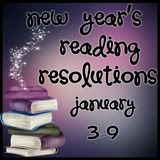 As part of the New Year's Reading Resolution Giveaway (hosted by Reading Angel, Pure Imagination, and Candace's Book Blog), I am giving away two books that I love:
WITCH CHILD
and
SORCERESS
by Celia Rees. When I first became absolutely addicted to reading, as an adult, I stuck with adult urban fantasy for the most part. Although, I had read the available Harry Potter books. But then I discovered these two books, which led to picking up more YA and eventually reading YA almost exclusively.
They have recently been republished with new covers, however, the copies I have are the covers shown below.
WITCH CHILD synopsis:
Welcome to the world of young Mary Newbury, a world where simply being different can cost a person her life. Hidden until now in the pages of her diary, Mary's startling story begins in 1659, the year herbeloved grandmother is hanged in the public square as a witch. Mary narrowly escapes a similar fate, only to face intolerance and new danger among the Puritans in the New World. How long can she hide her true identity? Will she ever find a place where her healing powers will not be feared?
SORCERESS synopsis:
It came to Agnes unbidden: a vision of Mary Newbury, a young woman driven from her Puritan settlement, accused of being a witch. It is an image of a life about to change radically, as Mary defies all accepted norms — embracing independence, love, and loyalty to a Native American community that accepts her as one of their own. The two women's lives are separated by almost four hundred years, but they are linked by more than blood. For, like Mary, Agnes has special powers — powers that Mary seeks to ensure that the rest of her story is told.
To enter:
1. You must follow this blog.
2. You must live in the US or Canada.
3. You must be 13 or older.
4. You must fill out this form.
This contest ends on January 9 at 11:59 PM. Winner will be announced the following day. Be sure to check out the other blogs in this contest!