I bought I Am Number Four
by Pittacus Lore several weeks ago, so I could see the movie on opening night. It took me a while to finally pick it up. I read it in only three days. I had heard complaints of it being slow. It kind of was… for a sci-fi/fantasy. But I thoroughly enjoyed it. Four becomes John, when he and Henri run to a new town: Paradise, Ohio. Trying to fit in, he goes to school, tries to make friends, and stay under the radar so the Mogadorians don't come after him.
Slowly, John's Legacies (powers) come into fruition, and he begins training. He needs to learn to control them so he can save his life, defeat the Mogadorians, and one day return to his home planet of Lorien. While he trains with Henri, he gets close to a girl at school and finds a friend in Sam. I loved the relationships in this book and the mild drama. I also loved the back story of the planet Lorien.
Normally, for me, the action sequences are some of my favorite. Not so here. The action begins less than 100 pages from the end. I'm not sure if I just didn't like the writing of the action or if it was the actions of the characters. Probably a combination. There were, I will say, a number of instances where I rolled my eyes or gritted my teeth because I thought their actions weren't so bright.
The book was pretty good. I have higher hopes for, The Power of Six
. It looks like we're getting a new point-of-view for book two, but I think our characters from book one will make an appearance.
A note about the movie tie-in edition
of the book. In the back is a preview of the sequel and the Lorien horoscope. What would your powers be?
We may be walking past you right now.
We are watching as you read this.
We may be in your city, your town.
We are living anonymously.
We are waiting for the day when
We will make our last stand together—if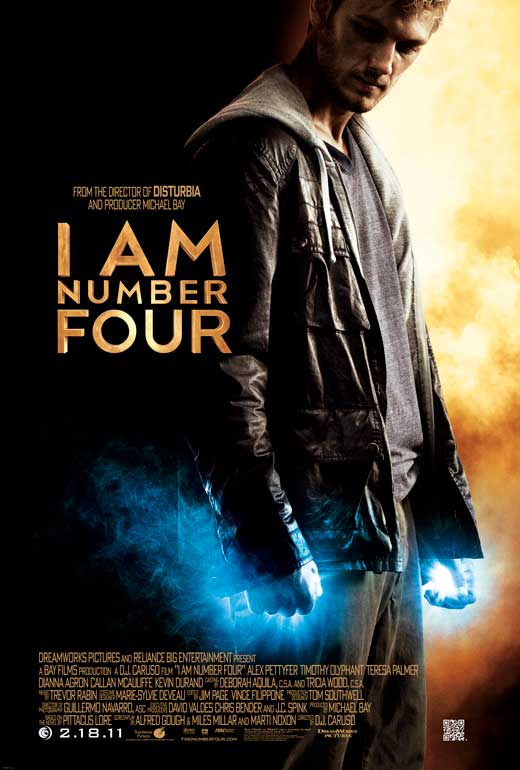 I did see the movie; the day after I finished the book. I'm not sure which I liked more. To be honest, I was a bit disappointed with both. But I also think that it was mostly due to the hype. Most of the stuff that I loved from the book were either skipped over or rushed so much that they weren't very enjoyable. That being said, the action sequences were awesome. A lot of the action stuff in the book that I found repetitive and… just bad… was not in the movie.
There were some things that irritated me, and one that really peeved me. But, still, I plan on grabbing it once it's available on DVD. Also, the movie has a great soundtrack… if it had one. I can't find it anywhere, but the music in the movie was great, and I've been looking for it.
I recommend both the book and movie, but… don't expect one to resemble the other. If you go into the movie expecting it to look like the book, you'll likely be disappointed. My recommendation: appreciate them for what they are. They are two different things, both good, just different.